Katowice Airport Departures (KTW)
Not all flights may be showing. If not available use search above to find your flight by airline, airport or flight number.
Destination
Airline
Flight no.
Scheduled
Est./Actual
Status
Chania (CHQ)
Electra Airways
AMQ732
09:20
Scheduled
Antalya (AYT)
Corendon Airlines
XC8238
09:45
Scheduled
Hurghada (HRG)
KlasJet
FT1524
11:15
Scheduled
Djerba (DJE)
Nouvelair
BJ7639
11:15
Scheduled
Brno (BRQ)
ASL Airlines
5O4639
11:21
Scheduled
No flight departures were found at Katowice Airport.
Flight Departures at Katowice Airport
More than 4.8 million passengers used Katowice Airport in 2018. Katowice Airport is the gateway to the Silesia region of Poland, linking this part of the country with destinations like Dublin in Ireland, Las Palmas, Cologne-Bonn, Frankfurt and Munich in Germany, London and Liverpool in the UK and Milan-Bergamo in Italy and Sharm El Sheik in Egypt. Terminals A and B handle departures, and this is where the check-in desks are located. The airport can be contacted on tel +48 32 39 27 385 (324) for general information.
Getting to Katowice Airport
Most car rental companies have their desks inside Terminal C, but a few are also located at Terminal B. Key drop-offs are taken care of in the P1 car parking facility. Car rental companies at Katowice Airport include Avis, Europcar, Express Rent A Car, Hertz and Sixt, Jolcar, Silvercar, iCar, GT-Cars, Odkryj-Auto and Soro World.
The official taxi operator is Pryzowice Airport Taxi Service. It costs ca 40.00 euros or 160zl to get from central Katowice to the airport. The company provides a useful calculator on their website that allows passengers to find out their fare in advance. It is also possible to make advance bookings.
Leo Express are in charge of minibus transfers between Katowice train station and the airport.
Line AP1, an airport bus service, connects Katowice Airport with Katowice Railway Station and stops also at Katowice Sokolska, Katowice Strefa Kultury, Sosnowiec Dworzec PKP (Railway Station) and Będzin Stadion.
Line AP3 stops only at Katowice railway station and the airport, please see the AP3 timetable. Tickets cost 14zl per person, one-way. Tickets can be purchased from the driver (cash only).
There are three car parking facilities: P1, P2 and P3, offering long and short-term parking at Katowice Airport. Parking for an hour costs ca 5 to 6 zl for a car, and 50 to 80 zl for a 24-hour period.
Terminal A Departures at Katowice Airport
Terminal A comprises of a ground and first floor. Terminal A has numerous check-in desks, as well as cash machines, a post office and money exchange desk, a tourist information stand, business lounge and medical center in the public areas. There are toilets and baby care rooms on both levels of this terminal. Snacks and hot and cold drinks are available on the ground floor and first floor, where passengers departing from Katowice Airport will also find a restaurant. The first floor of Terminal A also contains conference rooms and shops.
Terminal B Departures at Katowice Airport
Terminal B is divided into three floors. Check-in desks, money exchange and automatic money machines, a pharmacy and the LOT Polish Airlines office, a One Minute Store, Aelia Beauty products outlet and Haja Travel agency are all located in Terminal B. There's also a kids' zone on the first floor, where passengers aged 3 and older waiting for check-in can while away the time. Duty Free shopping is also handled on this floor, and the flying Bistro and Voyage Cafe offer refreshments. An observation deck, a chapel and conference rooms, as well as a kebab and salad snack bar and GTL-Rent A Car desk are located on the second floor.
Airlines flying from Katowice Airport
Wizz Air, the budget carrier from Hungary, was the first airline of its kind to provide flights in and out of Katowice. Today there are many more, including renowned names like Aegean, Air Cairo, Bulgaria Air, Eurowings, LOT (the Polish flagship carrier), Lufthansa, Ryanair and Tuifly.
Was your flight delayed or cancelled?
You may be eligible to receive up to 600 EUR compensation per person in your party..
Claim Now!
Beat the Queues
Don't stand sweating for 45 mins waiting for Security. Get a fast track and get through in 5 mins or less.
Book now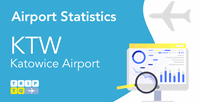 Katowice Airport experienced a remarkable surge in passenger numbers in June 2023. According to available records, the airport witnessed a significant 12.91% increase in passenger traffic compared to the same month in 2019, a pre-pandemic year...