Katowice Airport Arrivals (KTW)
Not all flights may be showing. If not available use search above to find your flight by airline, airport or flight number.
Origin
Airline
Flight no.
Scheduled
Est./Actual
Status
Paris (CDG)
ASL Airlines
3V4463
05:57
Scheduled
No flight arrivals were found at Katowice Airport.
Flight Arrivals at Katowice Airport
There are three terminals at Katowice Airport, A, B and C, but only terminal C handles Arrivals. This terminal consists of only the ground floor, where baggage reclaim and passport control are handled, and a Lost Baggage desk is also located in the immediate arrivals area.
In the public area there are several cash machines, a money exchange desk, a One Minute Store for things travelers have forgotten to pack, public toilets and car rental company desks. The latter are located near the main exit and include Avis, Express Rent A Car, Europcar, GT-Cars , Hertz, Jol-Car and Sixt.
Travelling from Katowice Airport to other Destinations
A taxi rank is just outside the terminal. The official operator, Pryzowice Airport Taxi Service, provides a useful fare calculator. The company has also taxi stands outside the other two terminals.
Taking a taxi to the city center of Katowice costs 160zl, around 40.00 euros or 53.00 US$. A trip to Krakow, some 115 km distance from Katowice Airport, costs 118.00 euros or 460 zl. Bookings can be made in advance. Contact details: +48 784 846 866 (Mobile), or +48 32 786 0606 (Tel) or biuro@taxipyrzowice.pl.
Leo Express are an official provider of minibus transfers between Katowice Airport and Ostrava-Svinov. Stops in between include Gliwice railway station, Rybnik railway station and Bohumin.
Airport buses also connect the airport with the main railway station in Katowice city center. AP3 leaves from the train station at regular intervals during the day, and AP4 leaves the airport for Katowice train station until 21.55 from Mondays to Fridays, and until 19.55 at weekends.
Tickets cost 14zl and they are valid for a 24-hour period on buses, trams and trolleybuses. A ticket machine is available at Terminal C. Tickets are also available from the driver (cash only). More information about ticket prices and where to purchase them.
Bus line AP1 connects Katowice Airport also with Katowice Railway Station, but stops also at Katowice Sokolska, Katowice Strefa Kultury, Sosnowiec Dworzec PKP (Railway Station) and Będzin Stadion.
Katowice railway station offers onward travel to Krakow and Prague for example, and many stops in between, including Bohumin and Ostrava.
P-Air Pyrzowice Ekspres Bus Services are the official Wizz Air carrier, operating the Katowice Airport to Krakow route and the Katowice to Częstochowa route. For online reservations, please visit https://www.pyrzowiceekspres.pl/en or telephone Reservations on + 48 603 966 598 (office hours 9.00 to 17.00 hours).
The Matuszek bus company provides travel to Krakow too.
FlixBus connects Katowice Airport with destinations like Krakow, Lodz, Gdansk and Banská Bystrica in central Slovakia. Flixbus also travels directly to Krakow Airport. Other destinations include Chorzów and Częstochowa. Please see www.flixbus.pl for timetables and prices. The site is available in numerous languages, including French, German and English.
Silesia Tourist Attractions
Katowice city and immediate surroundings offer tourists many exciting tours and excursions. If you are planning to rent a car at Katowice Airport, you'll find Silesia is bursting with tourist attractions like the Palace in Pilica, or fortresses like Bydlinie, Pieskowa or Wavel Castle near Krakow. There are galleries and museums, nature reserves and industrial heritage trails. Katowice's restaurants present a wide range of traditional and modern Polish cuisine, and it's never far to a great shopping experience either. Visit the BWA Contemporary Art Gallery, where temporary exhibitions offer a glimpse into the wide range of Poland's artistic output or simply enjoy one of Katowice's many festivals – there's at least one every month!
The Tourist Information Center is located at Rynek 13 in central Katowice. It is open from Mondays to Fridays from 9.00 to 19.00, and on Saturdays from 9.00 to 17.00, contact it@katowice.eu for details on things to do in the city.
Was your flight delayed or cancelled?
You may be eligible to receive up to 600 EUR compensation per person in your party..
Claim Now!
Beat the Queues
Don't stand sweating for 45 mins waiting for Security. Get a fast track and get through in 5 mins or less.
Book now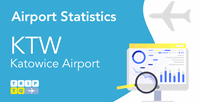 Katowice Airport experienced a remarkable surge in passenger numbers in June 2023. According to available records, the airport witnessed a significant 12.91% increase in passenger traffic compared to the same month in 2019, a pre-pandemic year...