Flights, Arrivals & Departures at Katowice Airport
Origin
Airline
Flight no.
Scheduled
Est./Actual
Status
Athens (ATH)
Ryanair
FR2614
00:20
Scheduled
Heraklion (HER)
Smartwings
3Z7449
00:20
Scheduled
Split (SPU)
Wizz Air
W61268
00:25
Scheduled
Heraklion (HER)
LOT
LO6166
00:28
Scheduled
Antalya (AYT)
Electra Airways
E44592
00:42
Scheduled
Puerto del Rosario (FUE)
Wizz Air
W61084
00:45
Scheduled
Abu Dhabi (AUH)
Wizz Air
W61276
00:55
Delayed
Tenerife (TFS)
Wizz Air
W61082
00:55
Scheduled
Antalya (AYT)
Skyline Express Airline
4M873
00:57
Delayed
Milas (BJV)
Ryanair
RR7744
01:07
00:48
Landed
Luton (LTN)
Wizz Air
W61006
01:10
00:58
Landed
Warsaw (WAW)
KlasJet
FT1524
01:12
Scheduled
Enfidha (NBE)
Enter Air
E44032
01:29
Scheduled
Liverpool (LPL)
Wizz Air
W61012
01:50
Scheduled
Chania (CHQ)
Ryanair
RR3064
01:56
Scheduled
Chania (CHQ)
Ryanair
RR7182
02:26
Scheduled
Hurghada (HRG)
Enter Air
E44752
02:51
Scheduled
Chania (CHQ)
Electra Airways
AMQ733
03:34
Scheduled
Cologne (CGN)
SprintAir
SAR1980
06:09
Scheduled
Lushan (LUZ)
Nouvelair
BJ7679
06:35
Scheduled
Lushan (LUZ)
Nouvelair Tunisie
BJ7678
06:35
Scheduled
Enfidha (NBE)
Enter Air
E47038
07:15
Scheduled
Frankfurt (FRA)
Lufthansa
LH1360 expand_more(4)
10:00
Scheduled
Frankfurt (FRA)
Air Canada
AC9574
10:00
Scheduled
Frankfurt (FRA)
LOT
LO5362
10:00
Scheduled
Frankfurt (FRA)
Singapore Airlines
SQ2264
10:00
Scheduled
Frankfurt (FRA)
United Airlines
UA9383
10:00
Scheduled
Treviso (TSF)
Ryanair
FR2383
10:00
Scheduled
Dortmund (DTM)
Wizz Air
W61092
10:25
Scheduled
Torp (TRF)
Wizz Air
W61216
10:30
Scheduled
Warsaw (WAW)
LOT
LO3881 expand_more(1)
11:15
Scheduled
Warsaw (WAW)
El Al
LY9279
11:15
Scheduled
Bourgas (BOJ)
Wizz Air
W61262
11:40
Scheduled
Luton (LTN)
Wizz Air
W61002
11:45
Scheduled
Rhodes (RHO)
AMC Aviation
AMQ133
11:49
Scheduled
London (STN)
Ryanair
FR2471
11:50
Scheduled
Athens (ATH)
Wizz Air
W61242
12:05
Scheduled
Larnaca (LCA)
Wizz Air
W61252
13:35
Scheduled
Frankfurt (FRA)
Air Dolomiti
EN8760 expand_more(1)
14:10
Scheduled
Frankfurt (FRA)
Lufthansa
LH9478
14:10
Scheduled
Warsaw (WAW)
LOT
LO3883 expand_more(3)
14:30
Scheduled
Warsaw (WAW)
Air Canada
AC6736
14:30
Scheduled
Warsaw (WAW)
TAP Air Portugal
TP7063
14:30
Scheduled
Warsaw (WAW)
Turkish Airlines
TK8063
14:30
Scheduled
Eindhoven (EIN)
Wizz Air
W61072
15:15
Scheduled
London (STN)
Ryanair
FR8266
15:20
Scheduled
Kerkyra (CFU)
Wizz Air
W61248
16:10
Scheduled
Dalaman (DLM)
Enter Air
E45010
16:16
Scheduled
Dortmund (DTM)
Ryanair
FR6893
16:25
Scheduled
Dortmund (DTM)
Wizz Air
W61094
16:55
Scheduled
Napoli (NAP)
Wizz Air
W61050
17:00
Scheduled
Gudja (MLA)
Wizz Air
W61164
18:35
Scheduled
Antalya (AYT)
Smartwings Poland
3Z7215
21:50
Scheduled
Tirana (TIA)
Wizz Air Malta
W43873
21:55
Scheduled
Trapani (TPS)
Ryanair
FR3648
22:05
Scheduled
Frankfurt (FRA)
Air Dolomiti
EN8762 expand_more(1)
22:45
Scheduled
Frankfurt (FRA)
Lufthansa
LH9488
22:45
Scheduled
Leeds (LBA)
Wizz Air
W61016
23:15
Scheduled
Warsaw (WAW)
LOT
LO3879 expand_more(1)
23:25
Scheduled
Warsaw (WAW)
Air Canada
AC6738
23:25
Scheduled
Malmo (MMX)
Wizz Air
W61210
23:40
Scheduled
Palma Mallorca (PMI)
Wizz Air
W61184
23:55
Scheduled
Destination
Airline
Flight no.
Scheduled
Est./Actual
Status
Enfidha (NBE)
Enter Air
E47037
01:00
Scheduled
Dalaman (DLM)
Enter Air
E45009
02:05
Scheduled
Hurghada (HRG)
KlasJet
FT1524
02:10
Scheduled
Antalya (AYT)
LOT
LO6107
02:50
Scheduled
Antalya (AYT)
Electra Airways
E44613
03:30
Scheduled
Rhodes (RHO)
AMC Aviation
AMQ132
05:15
Scheduled
Sharm el-Sheikh (SSH)
Skyline Express Airline
QU9131
05:35
Scheduled
Warsaw (WAW)
LOT
LO3880 expand_more(2)
05:40
Scheduled
Warsaw (WAW)
Air Canada
AC6735
05:40
Scheduled
Warsaw (WAW)
Turkish Airlines
TK8062
05:40
Scheduled
Oslo (TRF)
Wizz Air
W61215
06:00
Scheduled
London (LTN)
Wizz Air
W61001
06:05
Scheduled
Frankfurt (FRA)
Air Dolomiti
EN8763 expand_more(1)
06:15
Scheduled
Frankfurt (FRA)
Lufthansa
LH9489
06:15
Scheduled
Larnaca (LCA)
Wizz Air
W61251
06:15
Scheduled
Dortmund (DTM)
Wizz Air
W61091
06:20
Scheduled
Venice (TSF)
Ryanair
FR2382
06:25
Scheduled
Athens (ATH)
Wizz Air
W61241
06:35
Scheduled
Antalya (AYT)
Smartwings
3Z7214
06:40
Scheduled
London (STN)
Ryanair
FR2472
06:55
Scheduled
Hurghada (HRG)
Enter Air
E45705
07:05
Scheduled
Burgas (BOJ)
Wizz Air
W61261
07:10
Scheduled
Monastir (MIR)
Nouvelair
BJ7679
07:20
Scheduled
London (STN)
Ryanair
FR8267
10:25
Scheduled
Frankfurt (FRA)
Lufthansa
LH1361 expand_more(3)
10:35
Scheduled
Frankfurt (FRA)
Air Canada
AC9569
10:35
Scheduled
Frankfurt (FRA)
LOT
LO5361
10:35
Scheduled
Frankfurt (FRA)
United Airlines
UA9384
10:35
Scheduled
Eindhoven (EIN)
Wizz Air
W61071
10:55
Scheduled
Corfu (CFU)
Wizz Air
W61247
11:15
Scheduled
Warsaw (WAW)
LOT
LO3882 expand_more(2)
11:55
Scheduled
Warsaw (WAW)
Air India
AI7950
11:55
Scheduled
Warsaw (WAW)
El Al
LY9280
11:55
Scheduled
Naples (NAP)
Wizz Air
W61049
12:15
Scheduled
Dortmund (DTM)
Ryanair
FR6892
12:40
Scheduled
Malta (MLA)
Wizz Air
W61163
12:40
Scheduled
Dortmund (DTM)
Wizz Air
W61093
13:00
Scheduled
Malmo (MMX)
Wizz Air
W61209
14:30
Scheduled
Frankfurt (FRA)
Air Dolomiti
EN8761 expand_more(1)
14:45
Scheduled
Frankfurt (FRA)
Lufthansa
LH9479
14:45
Scheduled
Warsaw (WAW)
LOT
LO3884
15:10
Scheduled
Malaga (AGP)
Wizz Air
W61073
16:10
Scheduled
Trapani (TPS)
Ryanair
FR3647
16:50
Scheduled
Palma de Mallorca (PMI)
Wizz Air
W61183
17:40
Scheduled
Leeds (LBA)
Wizz Air
W61015
17:50
Scheduled
Ibiza (IBZ)
Wizz Air
W61027
18:00
Scheduled
London (LTN)
Wizz Air
W61005
19:35
Scheduled
Oslo (OSL)
Ryanair
FR7100
20:15
Scheduled
Tirana (TIA)
Wizz Air Malta
W43874
22:30
Scheduled
Flying To and From Katowice Airport
This page provides information about the destinations that can be reached via Katowice Airport.
Was your flight delayed or cancelled?
You may be eligible to receive up to 600 EUR compensation per person in your party..
Claim Now!
Beat the Queues
Don't stand sweating for 45 mins waiting for Security. Get a fast track and get through in 5 mins or less.
Book now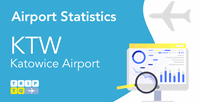 Katowice Airport experienced a remarkable surge in passenger numbers in June 2023. According to available records, the airport witnessed a significant 12.91% increase in passenger traffic compared to the same month in 2019, a pre-pandemic year...