KATOWICE AIRPORT (KTW) INFORMATION
Origin
Airline
Flight no.
Scheduled
Est./Actual
Status
No flight arrivals were found at Katowice Airport.
Destination
Airline
Flight no.
Scheduled
Est./Actual
Status
No flight departures were found at Katowice Airport.
Car Hire at Katowice Airport
UNBEATABLE VALUE CAR RENTAL
Free Amendments | Free Cancellations | No Card Fees




Katowice Airport - All Information on Katowice Airport (KTW) Katowice Airport
Wolności 90, 42-625 Ożarowice, Poland
phone +48 32 39 27 000
phone+48 32 39 27 327 (Lost + Found)
emailinformacja@gtl.com.pl
call_end+48 32 39 27 376 (fax)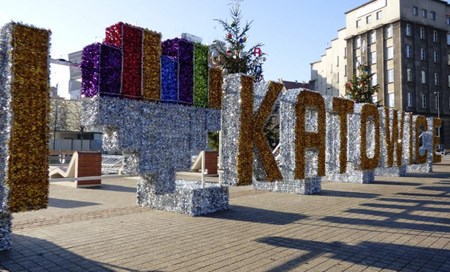 Situated in Pyrzowice, about 30 km/19 miles north of the city of Katowice, Katowice Airport is the fourth-busiest airport in Poland. The international airport handled 4.8 million passengers in 2018, a 24.3% increase on the previous year. In 2018, Katowice Airport saw some 40,000 aircraft movements, an 18% increase on 2017.
Katowice Airport has its origins in WWII, when the German Luftwaffe built an airfield in Pyrzowice's surrounding countryside in 1940. Between 1945 to 1951 the airport served as a base for Red Army soldiers. Later the Soviet Government handed over the airfield to the Polish Army. Passenger traffic didn't start until October 1966, when the first LOT Polish Airlines aeroplane left for Warsaw.
The first passenger terminal opened at the end of 1969, when Katowice Airport also received taxiways and an apron. Since 2000, the airport has seen numerous upgrades, including an extension of the aprons and taxiways and runway strip.
Today the airport is connected to the rest of Poland via the S1 expressway, which opened in November 2016. It links Pyrzowice's airport to the Podwarpie interchange.
There are three terminal buildings today, A, B and C. Terminals A and B handle Departures, while C terminal is dedicated to Arrivals only.
Arrivals, Departures and Airlines at Katowice Airport
In 2004, the Hungarian budget airline Wizz Air began operations from Katowice Airport. Today, the airport is used by airlines such as Aegean, air Cairo, Bulgaria Air, Eurowings, LOT, Lufthansa, Ryanair and Tuifly, among many others, including Wizz Air.
Among the destinations offered are Bristol, Doncaster-Sheffield, Liverpool and London (Luton and Stansted airports), Dubai, Cologne-Bonn, Milan-Bergamo, Munich, Dortmund and Frankfurt, Sharm El Sheik, Stavanger, Warsaw and Kharkiv in Hungary.
Terminal A, Departures, consists of a ground and first floor. Services provided include check-in desks, cash machines and an information stand, a Post Office and business lounge, money exchange desk and medical centre as well as a baby care room and public toilets. So! Cafe and Coffee House provide refreshments and snacks. On the first floor there are a Travel Chef restaurant and conference rooms, various shopping outlets, another baby care room and more public toilets.
Terminal B, Departures, has a ground, first and second floor, with check-in and money exchange desks, a pharmacy and the LOT Polish Airlines office. There is also a One Minute Store for last minute shopping, and the office for the Airport Taxi Service, the official taxi company operating between the airport and destinations in Silesia, the region in which the city of Katowice lies. Passengers will also find car rental desks at Terminal B. They are located on the ground floor, near the main exit/entrance.
Terminal C, Arrivals, comprises of only one floor, where passengers will find ATM's and baggage reclaim and Lost Luggage. There is also a desk for money exchange, another So! Cafe and another One Minute Store. Numerous car rental desks are located near the entrance/main exit of Terminal C.
Access to Katowice Airport
Car rental companies at Katowice Airport are located near the entrances at Terminals B and C, including branded names like Avis, Europcar, Express Rent A Car, Hertz and Sixt, and local companies like Jolcar (Terminal C), Silvercar, iCar, GT-Cars (Terminal C), Odkryj-Auto and Soro World.
A taxi rank is just outside the terminals. The official operator, Pryzowice Airport Taxi Service, offers passengers a useful fare calculator. The fare to Katowice city center for example is 160 zl, that translates to about 40.00 euros, 53.00 US$ or 32.00 GBP. Travelling by taxi to Krakow, a 90-minute trip from Katowice Airport, costs 460 zl, that's ca. 118.00 euros.
Leo Express are an official provider of minibus transfers to the nearest train station, where passengers can travel to destinations like Ostrava or Prague in the Czech Republic.
Line AP1, an airport bus service, connects Katowice Airport with Katowice Railway Station and stops also at Katowice Sokolska, Katowice Strefa Kultury, Sosnowiec Dworzec PKP (Railway Station) and Będzin Stadion.
Service AP3 operates only between the railway station and the airport, and AP4 operates the opposite route, from the airport to the railway station, for timetable info on line 3, and for line 4.
Tickets for the route to the city center/railway station cost 14zl and they are valid for a 24-hour period on buses, trams and trolleybuses. A ticket machine stands in Terminal C, and tickets are also available from the driver (cash only). More information about ticket prices and where to purchase them.
It is also possible to travel by bus to Krakow on the Matuszek service.
Hotels near Katowice Airport
There are a number of hotels to suit all budgets and requirements at or near Katowice Airport.
Parking at Katowice Airport
See options for parking services at Katowice Airport.
Additional Services and Amenities at Katowice Airport
At Katowice Airport you will find the usual array of bars and restaurants, airport lounges and shops.
Things to do in Katowice
There are a number of activities to suit all ages and interests in the region - see a selection of tourist activities in Katowice, Poland.
Services at Katowice Airport
Useful Information about Katowice Airport