Flights from Katowice Airport KTW to Samos Airport SMI
You have a choice of only 1 airline LOT if you want to depart Pyrzowice to Samos Greece. The flight time from Pyrzowice to Samos is around 2 Hours 38 Minutes and you will cover 1,551 Km (964 Miles). The airport code for Pyrzowice is KTW and for Samos it is SMI.
Ticket prices are normally at a premium at weekends and can vary also with the time of day. If you are looking to get the cheapest flights possible then we recommend you travel mid week or in the late evening. On occasions, airliners may have special offers so look out for these. Our recommendation is to book well in advance if you are looking to get the best possible prices.
There is a time difference of 2.0 GMT at Samos Greece, so remember to alter your watch to the correct time upon your arrival.
If you are planning a trip to Samos Airport from Pyrzowice Airport you can pre-arrange short or long term parking at Pyrzowice Airport.
If you are renting a car at Samos Airport it is recommended to fill up the fuel tank before returning the vehicle at the nearest fuel station to Samos Airport in order to avoid incurring additional costs. *Please check your rental agreement to understand the fuel policy for your vehicle.
We suggest pre-booking your transport to Pyrzowice Airport. The following options are available:
Ensure your arrival at Samos Airport is as stress-free as possible by pre-booking your onwards transport - booking early may also save you money:
Find hotels close to Samos Airport many hotels offer airport transfers directly from the airport to your hotel.
Below you can see a table that shows the airlines that fly from Pyrzowice (KTW) to Samos (SMI) and frequency of flights daily.

Flights Chart
| Airliner | Mo | Tu | We | Th | Fr | Sa | Su | First Flight | Last Flight | Flights |
| --- | --- | --- | --- | --- | --- | --- | --- | --- | --- | --- |
| LOT | 0 | 0 | 0 | 0 | 0 | 1 | 0 | | | VIEW FLIGHTS |
The greatest amount of direct flights offered from Pyrzowice to Samos Greece are by LOT with around 1 flights a week. The earliest flight is available at and the latest flights at with the most popular flight number being .
You can visit LOT at www.lot.com/ website for late minute deals and up to date information.
Below you can see the times of all flights. These flight times do vary so we recommend you look on the appropriate airline website for accurate information for the dates you are departing.

Flights Time In WeekDays
There may also be different routes to Samos, by an alternative nearby airport. Please see details below.

Alternative Direct Routes
| Route | Stops | Distance | Flying Time |
| --- | --- | --- | --- |
| Warsaw to Samos | 0 | 1,675 km (1,041 miles) | 2 Hours 47 Minutes |
If you require a hire car at Samos be sure that you are in possession of a valid driving licence and also a current credit card.
Compare Flight Prices from KTW to SMI
Was your flight delayed or cancelled?
You may be eligible to receive up to 600 EUR compensation per person in your party.
Claim Now!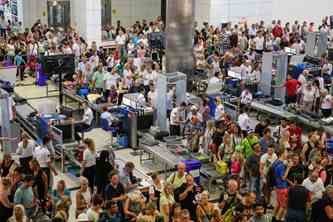 Beat the Queues
Don't stand sweating for 45 mins waiting for Security. Get a fast track and get through in 5 mins or less.
Book now
Flight Info FAQ - Katowice (KTW) to Samos (SMI)
question_answer Who flies from Katowice to Samos?
The following airlines fly from Katowice (KTW) to Samos (SMI): LOT.
question_answer How far is the flight from Katowice to Samos?
The flight from Katowice to Samos is 1,551KM or 964 miles.
question_answer How long does the flight from Katowice to Samos to take?
The flight from Katowice to Samos takes 2 Hours 38 Minutes.
Useful Information about Katowice Airport